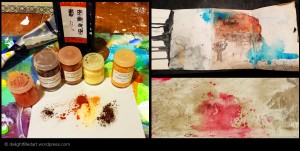 I love art supplies – if you're a creative person you probably relate to this. I have quite a few I return to again and again: gesso, espresso grinds, paint, pastels applied to textures in my paintings near the end.
Above are my Roussillon pigments that I bought as a souvenir in France in 2006. I love the earthy tones of the pigment, and even more, the memory of the way the sun warmed the earthen walls in the French village as we walked its lonely spring streets.
On the right are a few sketches I did during our trip to France. I had prepared surfaces of the pages in an accordion book before our trip using gesso and some other supplies, then using watercolour pencils and a few other things I brought along, I did some drawings and collages on the pages during our travels.
What's your favourite art medium? What do you find yourself returning to, or what would you like to try? I would like to try acrylic ink sometime.